Get Upto 60% Discount
Please fill the form below & proceed
Blooming Brand Identity: Exploring the Beauty of Flower Logo Designs for Your Business
July 20 , 2023 Posted by admin
Flower logos are becoming popular among business owners in the wedding, wellness, and other artistic industries. Poets, writers, and artists worldwide have used flower symbolism in their works for thousands of years. Flowers are a universal symbol that can show love, support, sadness, a new beginning, a happy occasion, and much more. Because of this, they make great logos!
In this piece, Logo Magicians, the best logo design company in Florida, will take you to the world of blossoms, where you will explore the beauty of flower logo designs for your business. We will cover different flower logo styles, best-known examples of flower logo design, and tips for an excellent design for your business. Let's start!
Multiple Flower Logo Style
If you want to use a flower in your logo, we've listed some different ways to do it and gathered some of our best examples.
Abstract Flower Logos
Health and wellness businesses often go for abstract flower logos, which can be used in any field. An abstract flower sign can make your brand more interesting without looking too sentimental. Often, lotuses, daisies, and sunflowers are used as abstract floral images. Mix a gradient with a simple abstract flower sign to make it stand out.
Modern Flower Logos
A modern flowery logo combines hand-drawn art or big flowers with a modern serif or sans-serif font to make a bold and edgy design. These names often have a bold font next to a delicate flower, creating an exciting contrast. Using different font types and weights, these logos have a lively and exciting look that will appeal to a modern audience looking for a fresh and unique way to promote floral brands.
Minimal Flower Logos
Minimalist flower logos are famous on sites like Pinterest because they are simple, and you can use them for branding, product packaging, digital marketing, social media graphics, and merchandise.
Most of the time, these logos have a flat flower symbol or the outline of a flower, along with clear, simple writing. Almost every business uses them, from making soap to editing books to roasting coffee. This design works incredibly well for small businesses that don't sell flowers as their main product. It lets them show beauty and nature without removing their main products.
Watercolor Flowers Logos
Watercolor logos are trendy for weddings because they look beautiful and catch the eye. Watercolor designs stand out because of their bright colors. They add a bit of uniqueness and charm to wedding-related branding.
But it's important to remember that putting watercolor logos on bags and clothes can be expensive and complex because the design is so detailed. Also, when used digitally, watercolor icons can take up a lot of room on websites or social media pages because they need to shrink better.
Logo Magicians make it easy to create a design with a watercolor look by letting you use a brush script and a brush container. Natural or calm color schemes can help you get the desired result.
Vintage Floral Logos
Vintage logos look like they have been around for a long time. Choose a flower that seems drawn or painted by hand for a retro look. If you want to use a popular type of bottle with vintage-style marks, look for ones that look like old apothecary labels. Next, choose a vintage style that stands out. You should use a retro color scheme to tie everything together.
Botanical Logos
Botanical designs are trendy right now. Logos can use more than just the flower itself. They can use the stem, the bud, the leaves, and other parts of a flower. A floral logo is excellent for hand-made items, food and drink businesses, consultants, and creative types. It has a smooth, natural feel while still having a refined beauty. The best way to use these small, simple symbols is with a script or serif font.
Floral Frames
Floral frames are a stylish and natural way to add flowers to a logo. By weaving flowers, leaves, and plants together, they make a border or enclosure that looks nice and gives a hint of natural beauty without being too much. By using floral frames, which provide a feeling of nature, freshness, and uniqueness, brands can show what they stand for and connect with their audience. They are a flexible and attractive choice for businesses that want a logo design that is both classy and rustic.
Gothic Flower Logos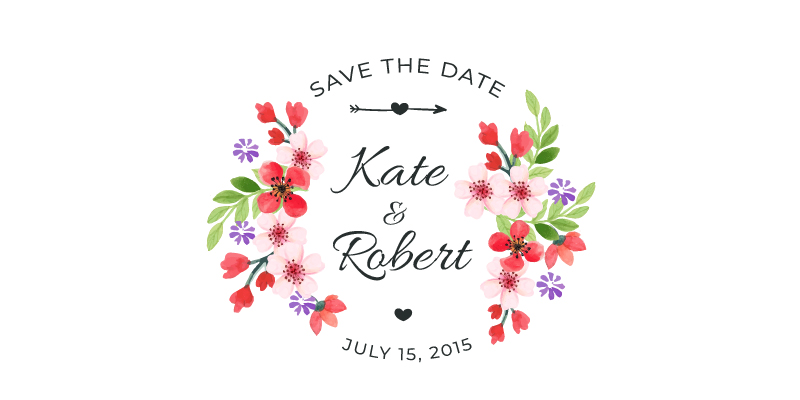 Goth is a popular style in pop culture, so many businesses use a darker, more gothic tone to attract customers. Look for poppies, black dahlias, and scarlet roses if you want your name and brand to feel sad. To finish the look, mix these with a vintage-style serif font.
Opting for professional logo design services in Florida? Your chase ends here! Our best logo design company in Floridaspecializes in creating captivating business logo designs that make your enterprise stand out. Whether you need a mascot logo, emblem logo, or any other logotype, we've got you covered. Contact us now for the logo design in Miami, and let's bring your vision to life!
Popular Companies Using Flower Logo Designs
Small- to medium-sized businesses that have closer relationships with their clients, such as wedding vendors, photographers, and florists, frequently use floral logo designs. However, some well-known, enduring companies still include flowers in their logos.
FTD
Florist's Transworld Delivery (FTD), a renowned floral and gift delivery service, features a logo with a man having a stylized flower with gentle curves and graceful petals. The man is the god "Hermes," who was Zeus' servant and is known as the man with winged feet. While the flower with him represents the company's expertise in creating and delivering beautiful floral arrangements, conveying sentiments of love, celebration, and appreciation.
Ponds
Since 1846, Ponds has been a well-known skincare company. An understated yet beautiful tulip appears in the company's emblem. Tulips represent beauty and purity, which aligns well with Ponds' mission to offer skincare products that enhance natural beauty. Keeping with the brand's dedication to healthy and bright skin, the logo's crisp lines and gentle curves exude a sense of freshness and delicacy.
Chupa Chups
Chupa Chups, a famous confectionery brand, features a logo with a playful daisy-like flower at the top of their lollipop sticks. The flower adds a touch of whimsy and childlike charm to their logo, complementing the brand's fun and enjoyable candy offerings. It symbolizes the delightful experience of enjoying a Chupa Chups lollipop.
Lancôme
Founded in 1935, Lancôme is a French extravagance perfumes and make-ups house with a flower logo design that shows captivating elegance through its intricate and stylized rose symbol. The rose represents the brand's emphasis on beauty and sophistication, while the soft color palette adds a touch of refinement. With its balanced composition and artistic execution, the logo is a timeless representation of Lancôme's unwavering commitment to luxury beauty.
Choosing The Ideal Flower To Represent Your Brand
Consider the following possibilities when choosing a flower pattern for your logo:
Roses, peonies, or daisies: If your style is more superficial and you want a delicate, feminine vibe, consider utilizing a flower with thick layers of petals.
Lily, orchid, or jasmine flowers: Choose an elegant font—serif or sans serif—and a more abstract floral symbol for a more contemporary logo design.
Cherry, sunflower, or lotus blooms: These flowers are frequently linked to wellness if you seek a sense of serenity and contentment.
Herbs and greenery: If you like how flower logos appear but don't want an overtly romantic vibe, a botanical-style logo can be a better choice. Instead of flowers, choose herbs and foliage.
Simple color scheme; three or fewer colors: Printing and scale can become overwhelming and challenging if you use too many colors in a flower logo.
As a stand-alone feature, make sure you like your flower. You should have the option to limit the use of your flower symbol on your social media profiles and websites to favicons or profile images. Make sure you adore the flower emblem you choose and that it accurately captures the essence of your brand.
Conclusion
For business owners in various sectors, including the wedding industry, wellness, creative industries, fashion, luxury goods, skincare, lifestyle, and more, flower logos are a fashionable and symbolic choice for developing a memorable corporate identity.
At Logo Magicians, the best logo design company in Florida, we uniquely understand the transformative influence a meticulously crafted logo use over your business's prominence.
From mascot logo design to cutting-edge emblem logo design, we conjure the best business logo designs near me of utterly unique and captivating flowers. Let us weave the magic of logo design and elevate your brand to unprecedented heights.
---