Get Upto 60% Discount
Please fill the form below & proceed
What is Threads? Instagram's New Text-based Sharing App Taking on Twitter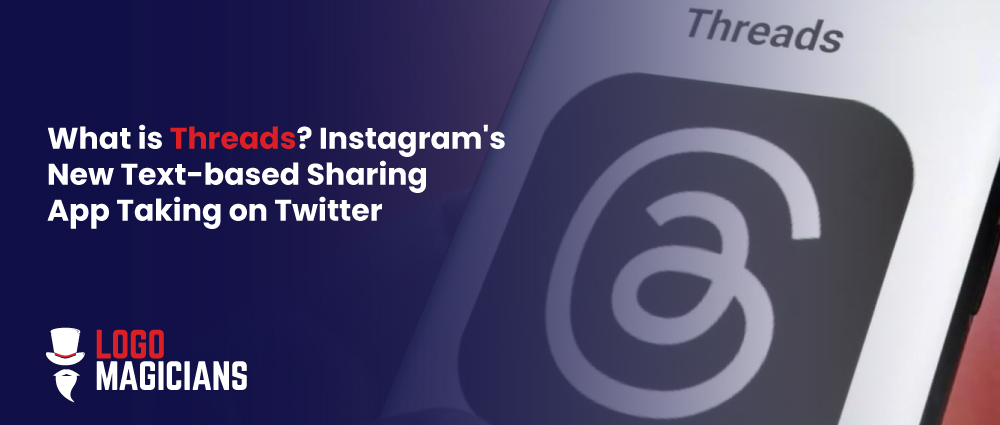 July 12 , 2023 Posted by admin
Since Elon Musk took on the platform last year, there have been massive changes on Twitter. Many new rivals have popped up to try to take over the social media giant. While some alternatives, such as Bluesky, have gained attention, they have yet to manage to disrupt Twitter's dominance genuinely. With Instagram Threads, things are different.
Instagram Threads has reached more than 5 million users in a record time. It did better than ChatGPT, which got 1 million people in 5 days.
So, in this blog, our top pay per Click advertising agency called Logo Magicians will discuss everything about this platform's secret sauce. Take a look.
What is Instagram Threads?
Threads, a version of Instagram that puts conversations ahead of photos and videos. You can sign in with your Instagram account to join public conversations and share text updates. Threads Instagram app has a comments section like Instagram but also has Twitter features like replying and re-sharing posts. You can post anything up to 500 characters, exceeding Twitter's 280 characters limit. You can also integrate links, not more than 10 photos, and 5 minutes length videos.
Unlike Twitter, Threads doesn't use hashtags or provide a section for popular topics.
How To Use Instagram Threads?
Threads offer a new digital space for open discussions and real-time information, whether you're a casual poster or a creator. But the company is trying to connect Threads with open, interoperable social networks that could shape the way the Internet grows in the future.
A billion people utilize Instagram for photos and videos sharing and real-life conversations. With Threads, the company desires to put on what Instagram does best to text. They want to make a place for you to share your thoughts that is friendly and creative. Similar to Instagram, Threads allows you to connect with and follow friends and creators who are in the same interest as you. People you follow on Instagram and elsewhere are included in this. Besides, you can take advantage of the safety and user controls that the company already provides.
Take Part In The Conversation On Instagram
You can begin with threads quickly; just log in using your Instagram account. You can modify your profile specifically for Threads while holding your current Instagram account and authentication.
By default, users who are under the age of 16 or under 18 in certain regions and register for Threads will automatically have a private profile. You can find other Instagram users who like the same things you perform by following accounts that are similar to your own. Threads have added all of Instagram's most important accessibility features, like support for screen readers and AI-generated picture descriptions.
On Threads, the feed includes threads that people write you follow. It also has suggested content from new creators. As discussed, you can create posts with a limit of 500 characters and add links, not more than 10 pictures. You can add videos up to five minutes long. You can easily and quickly share a threads post to your Instagram story or any other platform.
Tune Out the Noise
Instagram creates Threads for positive and productive conversations. You decide who can mention you or respond to you in Threads. You can add hidden words to your threads, like on Instagram, to filter out comments that comprise particular words. When you block somebody on Instagram, Threads will directly block that person. On a Threads page, you can unfollow, block, restrict, or report it by tapping the three dots button.
Instagram enforces its Community Guidelines on content and interactions within the app because, like all its products, it takes safety very seriously. With a focus on improving industry-leading integrity efforts and investments to make the community safer, they have spent over $16 billion since 2016 building up staff and technologies to protect users.
Compatibility of Interoperable Networks
Instagram wants to make Threads work with ActivityPub soon. ActivityPub is an open social networking system that World Wide Web Consortium (W3C) creates. The W3C is responsible for making the open standards that make the modern web work. With this new change, it would be easy for WordPress, Mastodon, and other apps that use the ActivityPub protocol to join with Threads. Because of this, people can form new ties on social apps that weren't possible before. In the future, Tumblr will likely be one of the sites supporting the ActivityPub protocol.
How Threads Can Connect People With Greater Control
Instagram plans to enable you with superior control over your viewers on Threads. They are working on a plan to collaborate with ActivityPub as part of this commitment. It enables you to effortlessly move your content from Threads to another service in case when you stop using Threads.
Instagram wants to build a vibrant, interconnected community where users of related apps may follow and communicate with Threads users whether or not they have an account there.
Your postings will be viewable from other apps for users with public profiles on Threads, quickly extending your reach and letting you meet new people. Just like Instagram, if you have a private profile, you can approve anyone who wishes to follow you and wish to interact with your content.
The advantage of open social networking protocols goes beyond how users follow each other. Developers can speed up their new ideas and experiments. They can make advanced features and user interfaces easily connected to other open social networks. Each compatible app' can set its own content control regulations and community standards, permitting users to select locations in accordance with their values. The importance of this decentralized strategy for online platforms is similar to the significance of protocols that regulate email and the web in shaping the future.
Threads Meta's first app that aims to perform with an open social networking protocol. Threads want to make it easy for users to find their communities. Thread lets join this rapidly growing network of services that can work with each other, no matter what app they use.
How Instagram Threads Compete With the Twitter?
Instagram Threads is still a simple app with few features. For example, on Threads, you can only search for people to follow, while Twitter has a complete search function that lets you look through tweets and current topics. Also, you can only send specific posts to users on Threads like you do on Instagram, as the app has just begun its journey and will likely change over time.
However, Instagram Threads is better than Twitter because it has the backing of Instagram's massive number of users. You have a winning combination when you mix it with the growing number of people who don't like how Elon Musk runs Twitter.
But Threads isn't the only Twitter-like app that has come out since Musk bought the social media site. Among them are the "anti-Twitter," Mastodon, the Jack Dorsey-backed Twitter clone, Substack Notes, and many others. However, since they had to begin their audience growth from the beginning, they may come across as tedious to those accustomed to Twitter's livelier atmosphere. New social media networks must be easy to use, but some people think Mastodon is too difficult for the average user.
How Private is Instagram Threads?
But there are some privacy problems with the Instagram Threads app. Users must grant various permissions, like access to "Financial Info" and "Sensitive Info," as stated on the App Store page for Threads. Considering Meta's history of scandals and issues as a former Facebook, placing trust in this app raises genuine concerns.
Instagram Threads History
Some Instagram users might already know Threads, the new Meta app. Threads was the name of an app by the same company that came out in 2019 to go with Instagram. A chat app that puts the camera first and lets users post status updates and talk to "close friends." But it stopped in December 2021. Threads is back as brand-new software that tries to compete with Twitter.
Where will the platform go?
Chris Cox, who is in charge of products at Meta, talked about his plans for Threads at a company-wide meeting in June. He said it is a safe, trustworthy, and easy-to-use platform where creators could explore a "steady home to create and raise their audiences."
Conclusion
As an app for conversations, Instagram Threads is making a lot of noise in a social media market that is changing quickly. Threads' fast growth and plans to work with ActivityPub make it a great place to meet people interested in the same things you are. As Meta's first step into open social networking protocols, Threads let users give a place to be upbeat and creative.
Lastly, we hope you will like the blog post about the interesting Instagram app "Threads."
Do you wish to advance your web or app occurrence to reach a broader target group? If so, get our pay-per-click marketing agency's best online marketing services. Use the full potential of social media marketing to keep up with the digital world. Contact us right away!
---