Get Upto 60% Discount
Please fill the form below & proceed
How The Monograms Can Be Used
March 16 , 2022 Posted by admin
A monogram is such a powerful tool in this modern brand designing age. There is a history of monograms that tracks back to where it all started, and they are still being used today in this fast-paced market. We know how essential are the logo design services today to help the brand get the recognition it needs. With that being said, one must not overlook the wonders monogram logos can do for a brand.
Before using any particular type of logo for your business logo, you must know how they can benefit you. Monograms stand out from other logotypes because of simple and identifiable they are. It helps the brand to be portrayed in the exact intended way.
This Is What A Monogram Is
It is a symbol built with one or more than one initial letter. They have the power to appear easily recognizable and can be used to portray organizations, individuals, and products in the market. We can track back the first use of monogram back to 350 BC on the coins. This indicates the traditional value they hold, which is quite impressive. From that era, we see monograms being used to label multiple things. Be it a personal belonging, valuable property, or business.
Many famous brands use monograms to make themselves recognizable in the industry. Some of them are General Electric, New York Yankee, and Louis Vuitton. It is more than enough to consider monograms to be highly classic and bold when it comes to representing a brand.
What Is The History Of Monograms?
They were used as royal signatures and appeared on coins that date back to 350 BC. The Greek cities issued the coins with the foremost 2 initials of the name of the city. Christian symbols also have been using monograms. Moreover, the Chi-Rho monogram comprises the two initial Greek letters for Christ. In the middle ages, the artists used monograms as their signatures for the artwork they used to do. Furthermore, high-class society used monograms as the high-status symbol in the Victorian period.
The monograms symbols also have been used as resistance signs. In between the battle in Poland, Polska Walczaca's PW was employed. It was also called the Anchor because of its characteristic shape. Monograms used to be the practical identification mode until later they were evolved to be the brand designing tools for companies and businesses. The popular LC logo for Louis Vuitton prevents fake designer luggage production. Similarly, Coko Chanel's interlocked C's logo is a high-class elegance symbol.
How Do Monograms Work? What Are Their Types?
Monograms always have been in style, but they came under the spotlight in the Victorian era. They were used to decorate items mostly among the affluent and evolving middle class. Monograms do not need company initials to be successful. What's important is that the overall style of the monogram logo represents the correct brand identity. There have been multiple monograms types used for various reasons in history. You can have a peek at their types below.
Royals used to adopt the tradition of the monogram worldwide. We are referring to royal seals and clothing.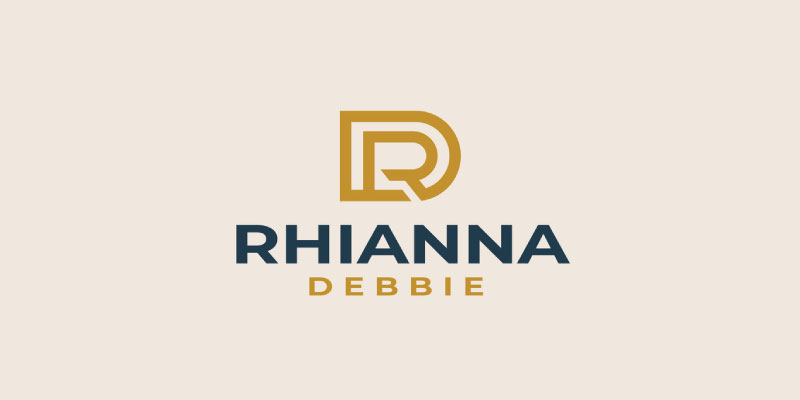 Those brands with longer names would prefer using monograms as it is easy for the customers to recognize them. A two to three-letter combination is just perfect. It is indispensable that the design mirrors the prevailing feeling of the brand.
Monograms have been quite popular at weddings as well. You can apply them to invitations, cakes, cards, and clothes. They represent a great union symbol that brings back the classic feel. For instance, a child's initials embroidered on goods are traditional as the present for the baby.
This Is How You Design A Monogram
You have a broad spectrum of monogram classes and samples to pick from. There is no specific rule whether how you decide to use the monogram. It only has to represent the brand in an intended way, making it easy for the customers to recognize it. You can follow a way to let the initials go on a monogram depending on what you plan to use it on.
Consider the following personal use to get a better idea.
Married or Soon-to-be Couples
In this case, the monogram looks good if it includes the bride's foremost initial, last couple name, and the first letter of the name of the groom. For instance, Sara and Ramsey Baker will become SBR.
Here she has to include her first name initial, then middle, and then the last name initial. For example, the name Rosa Betty Andrews will make a monogram RSA.
Here people prefer using different orders than others depending on what they want the monogram to look like. For instance, the first initial, the middle, and the last can change their position. Tom Thomas Jones can have a monogram made as TTJ or like TJT. This fully depends on the person who needs the monogram according to his preference.
Monogramming For Children
Here the same rule as men is followed. But then again, it fully is dependable on how they prefer it to be.
Following A Brand Vision Is Essential
You can find countless monograms styles and arrangements out in the market. The only essential thing you must remember is how well it can represent your brand? For instance, a medical logo has to portray an authentic feel; it should not be bright or colorful as it would not look professional this way. It is always essential to research how your monogram will look professional and good so it comes out to be easily recognizable by your customers.
Conclusion
The monogram logos have been in the market for a good time now, doing wonders. Every professional logo design services company realizes the worth of these logos and how they help in brand recognition. The use of monograms is still in full swing; this is why companies and businesses are using them to gain customer attention.
Also Read: Top 6 Powerful Logo Design Services Tips & Tricks for 2022
---