Get Upto 60% Discount
Please fill the form below & proceed
How To Bring Fresh Ideas For Digital Branding In 2021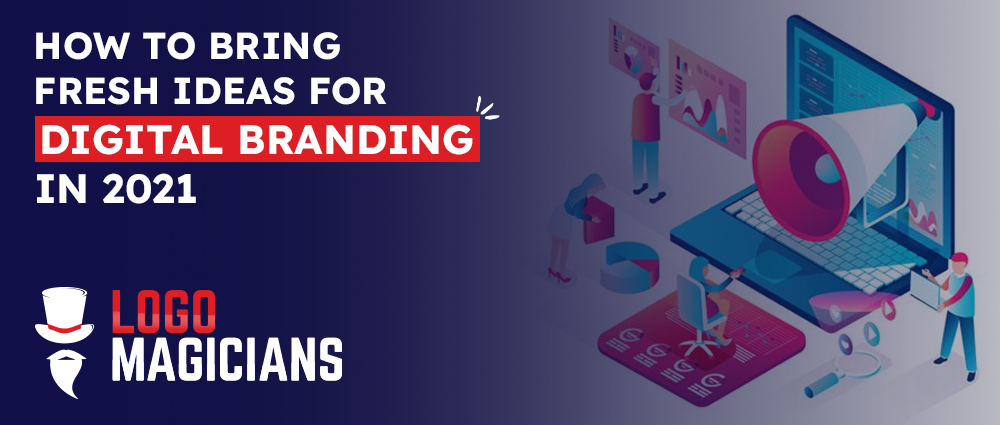 September 30 , 2021 Posted by admin
Branding is a traditional technique used by companies for ages to promote their products and services. It involves all conventional marketing and advertising tactics such as billboards, signboards, flyers, brochures, business cards, stationery design and packaging design. Newspapers, magazines, radio, and television are powerful mass media broadcasting platforms to spread the word about your brand. They have a broad audience reach from all around the world.
In the present era of technological advancement, branding has gone digital and become "Digital Branding." It includes the same old-school techniques added to the latest marketing practices such as website design online, internet, SEO, email, social, content, paid, and affiliate.
Nowadays, businesses do not merely rely on direct marketing practices, and they implement the latest digital marketing strategies to showcase their brand globally. Companies make no stone unturned in keeping above the competition and staying on top of all.
Here is how to bring fresh ideas for digital brand development in 2021:
Building The Professional Looking Website
Website is a fundamental aspect of marketing your brand online. It is now considered a primary factor for branding. A professional-looking website puts an incredible impact on the visitors, and they tend to purchase your products and services. Every small and large enterprise organization focuses on building a colorful and exceptional quality website that draws the eye-catching attraction of visitors.
Ranking Up Your Brand On Search Engine
Search engine optimization is the modern technique of showcasing your business online. It takes your website higher on the first page of Google. The first-page ranking means your brand is visible to everyone who reaches your website through keywords. SEO is all about a game of carefully playing with keywords. You need to hit the right keyword to increase your brand visibility on the internet.
Promoting Your Brand On Social Media
Social media is a powerful and influential medium for brand marketers. It allows them to market and advertises their brands to a mass audience. Many businesses now solely depend on social media platforms like Facebook, Twitter, LinkedIn, Pinterest, and Instagram to promote their products and services online. These channels are ideal for publishing and sharing your posts to your target audience and receive immense traffic and conversion.
Email Marketing
Email Marketing is one of the modern and cutting-edge techniques for businesses. Companies can use this strategy to compose the catchy headline and craft the message to deliver to target customers. The trend for newsletters elevates the value and demand for promotional branding. It creates brand awareness for customers, and they are aware of the latest happenings in your organization.
Paid Search Engine Marketing
The demand for paid search marketing is on the rise nowadays. It allows businesses to make some investment in advertisements. Marketers spend a considerable amount of money on google advertisers to buy a space for your product ad and show your brand to customers. When a searcher finds your ad through keywords, google shows the number of impressions and clicks on the ad.
It gives a calculated CTR percentage that shows the click-through rate of your display advertisement. PPC is gaining immense popularity among businesses to advertise their brands on the internet and earn quick revenue and profit.
Publishing The Original Quality Content
Content plays a vital role in augmenting your brand's popularity on the web. It holds a massive significance among businesses to market their products and services online. Writing a compelling web copy generates a remarkable idea of popularizing your brand among customers. It grabs the instant attention of visitors and converts them into loyal customers.
Posting a blog provides valuable information about your brand and develops an interest in reading through the entire content. Write content that sells is a compelling idea for brand marketing and delivers profitable results.
Making Your Brand Go Viral Through Video Marketing
Video marketing is a powerful and successful technique of making your brand go viral. YouTube is the topmost video platform for businesses to showcase their products and services online. Organizations use this tactic to create engaging videos such as animation videos, whiteboard videos, product demo videos, and short-length explainer videos.
These all kinds of videos are helpful for brand building and spreading the word about your business. You can add 2d and 3D visual effects to captivate the dynamic attention of visitors and make them hooked to your video. It is an easy and efficient way of publicizing your brand online to millions of visitors and earns you incredible profit.
Conclusion
Hence, in a nutshell, those mentioned above are the fresh and unique ideas for digital branding in 2021. By following these tactics, you can increase the significance of your brand and promote it to your target audience globally. Businesses can also hire a logo design company USA to promote their brand online. It establishes their brand reputation and boosts their image among customers.
Also Read: 7 helpful Tips To Design Fascinating Logos
---