Get Upto 60% Discount
Please fill the form below & proceed
Complete Guide about Social Media Marketing
March 24 , 2022 Posted by admin
You must have seen ads playing out between the videos you scrutinize on social media. Be it any social media platform, it is not a surprise to witness many known brands making themselves heard to their customers. Times have changed, and marketing strategies have also altered into something much more priceless. Today, every online business must have a professional digital marketing agency working to create compelling marketing strategies these days.
Without marketing strategies that help a business reach out to its potential customers, it is quite excruciating to grasp their attention. Moreover, knowing that the attention span of customers decreases with every passing day, marketing agencies are coming up with newer ways to get their response. One of the latest methods of fetching your customer's attention to the online business you have is through social media marketing. With social media channels becoming a top-notch source of news and information, you must learn to use them to benefit yourself.
The average time of users switching between social media channels daily is over 2 hours. According to this, there is a good possibility of them running into your business if you have been on social media for marketing purposes for your business. The increase in social media makes businesses and companies eager to learn how to use it to reach their consumers and improve brand awareness. Moreover, entering social media channels for branding purposes without prior knowledge would not do you any good.
Having good knowledge before you make your way into the world of social media will be helpful. If you think, you would see every big brand having its presence on social media channels, indicating that they have been getting something in return. This must be enough to inspire you to get your business's presence on social media and see what it can do for you.
Have A Look At What Social Media Marketing Is
It is an online method of utilizing popular social media platforms like Twitter, Instagram, Facebook, and LinkedIn with the goal of brand recognition. Grasping the customer's attention and connecting with a more diverse and broad target audience that shows effective results.
Especially for small businesses, it is a powerful method to draw in customers by targeting them on social media platforms they use. A top-notch and data-driven plan on social media brings outstanding results and increases conversions. Moreover, it has been observed that innovative social media marketing strategies positively influence search engine optimization (SEO), which makes revenues go higher. Turning a potential customer into a loyal customer is what a social media marketing company can do for your business. Isn't this what you need?
Social Media Marketing Benefits You Must Know
Do you find yourself in a constant state where you question if you really need your business to have its presence on social media platforms or not? If you do, fasten your seat belt because below, you will witness some data-driven benefits that are powerful enough to change your mind.
Every digital marketing agency focuses greatly on social media marketing as it comprehends its true value. A top-notch social media marketing plan with next-level content can positively affect the growth of your business by increasing the number of customers and engaging them in the best way. Moreover, your SEO increases, which is essential for increasing traffic and drawing more customers.
Still not sure whether you should invest in social media marketing or not? Consider the following crucial elements and see if they change your mind or not; we are pretty sure that they will though!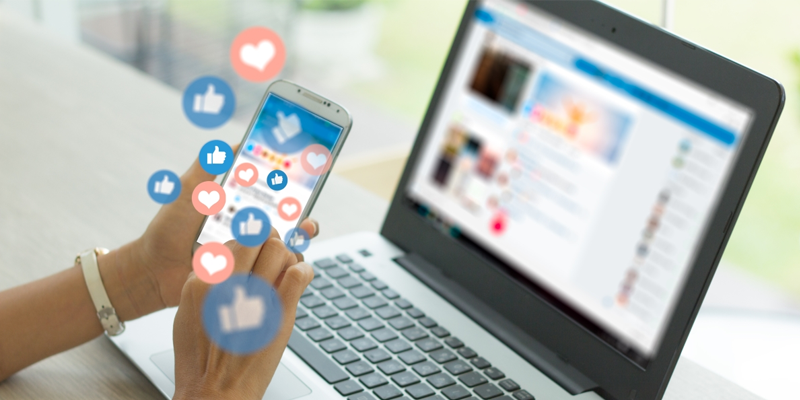 Social media has become a compelling resource for online businesses and brands. With the help of popular social media platforms, your business's exposure increases dynamically, which is interesting for customers. An effective social media strategy lets your business interact more with a broader customer base through likes, comments, and shares.
The importance of social media channels is vital as search engines like Google and Bing look at how much interaction the business has on social media with customers and improve the rankings. More people interacting and sharing your content on social media platforms subsequently send more traffic to your website, which evidently increases its ranking in the search engines.
Helps In Targeting Your Specific Audience Type
You can work for months to come up with the best content ever to draw customers, and it would not do a thing if it does not touch your target customers. You would not see a single conversion, and all the hard work you do will be in vain. On the other hand, social media marketing enables you to reach your desired audience by filtering them. You can characterize your audience according to age, location, gender, and hobbies. This helps you engage with a huge potential customer base, which impacts your results greatly.
Many customers utilize social media for product research. Other than that, a good number of customers also trust social media influencers when it comes to picking the right brand. A successful social media marketing strategy will increase your interaction and engagement to draw more customers and expand the business in the market to outperform your competitors.
You can tailor your social media marketing strategy to serve your business best according to your budget and plan. Appealing your customers with top-notch content and attractive strategy often work in your favor. This challenging market can use social media's existence as the platform where a business utilizes social media to lure more customers. Every digital and content marketing agency understands how crucial is social media is to play a vital part in brand recognition quite easily these days.
Conclusion
This highly competitive and busy market will always require businesses to come up with more smart strategies to gain their customer's attention. Social media marketing has been doing absolutely wonders for businesses that have been using it. It is always beneficial to have your business's presence made on social media platforms and observe the instant results in no time.
 Also Read: Let Us Explore The Difference Between Visual Design And Graphic Design
---