Get Upto 60% Discount
Please fill the form below & proceed
Let Us Explore The Difference Between Visual Design And Graphic Design
March 21 , 2022 Posted by admin
If you are a graphic designer, have you ever considered footing into the field of visual design? You may have listened to what it is and assumed how these both differ from one another. What is the primary role, and whether it is something about the web? Graphic design indeed covers most aspects of designing, but not every graphic designer knows how to design a mobile app as easily as a logo design. The design with which a user interacts has to be simple and engaging. The most popular work of a graphic designer is to create a graphic design logo according to the requirements. However, a visual designer's scope is beyond that, including many other things.
Let us explore the roles and responsibilities of both visual and graphic designers.
Graphic designers work to send an idea to their customers with the use of images and texts. The jobs of graphic designers have been around in the market before the digital world was fully revolutionized. Before, the main focus used to be on print media such as catalogs, magazines, and brochures.
The advertisements were also the expertise of a graphic designer. They are the ones to decide the font, color, words, and pictures that have to go on completing the content to provide information to their readers. Now seeing web design becoming a norm, graphic designers are not shifting and expanding their area of focus. This is why many graphic designers are now designing a website just as the requirements. Today, a graphic designer must have a complete piece of knowledge for a website just as they do for a logo.
Unlike graphic designers, a visual designer's primary area of focus is only on digital media. How an online business presence looks on the internet is the main responsibility of a visual designer. They are also referred to as problem solvers as they are also capable of deciding what goes onto the design to give a distinct voice to the brand.
Designing a strategy for an entire organization is something a graphic designer can not do. It does not matter what brand it is; the visual designer is an expert to give it the voice it deserves. How the focus of the internet is now changed from being not only tech-related but having high visuals as well, the role of visual designers is becoming more prominent.
Major Difference In The Work Of A Visual And Graphic Designer
Here are some of the main differences in these fields, which will help you understand how they differ.
The Goals Of Visual Design Are Different
The visual and graphic design results have different outcomes, and they are implemented at different places depending on the requirements they have. The similarity is to have a creative solution for whatever is needed from them. If the message, in the end, is successfully communicated with the target audience, it means that the goal is achieved.
Moreover, graphic design still works best on print media and now has an implementation on digital media as well, but on the other hand, visual designing has always been strictly about digital media. The main goal of visual design is to ensure that an organization's entire look and feel seems top-notch. Whereas graphic designers only aim to communicate the information.
Visual Design Has More Flexibility
A graphic designer wanting to spread his wings will only have to adjust around the limited designs themselves. Furthermore, a visual designer can expand to have multiple skills. A graphic designer always works on specific requirements; for instance, they work on vectors, images, fonts, or colors. However, the work of a visual designer needs him to be flexible and demands adjustability.
A visual designer thinks of an element to be designed only and thinks about how it would look on the screen of different dimensions. Now that mobile phones are so common, he should also think about how they would appear on a mobile screen. Why will the user be interacting with it, and what role should it offer? To ensure a full user-friendly interface, it is essential to think about the functionality of every single design element that a user would see on the screen.
Visual Design Is Beyond Photoshop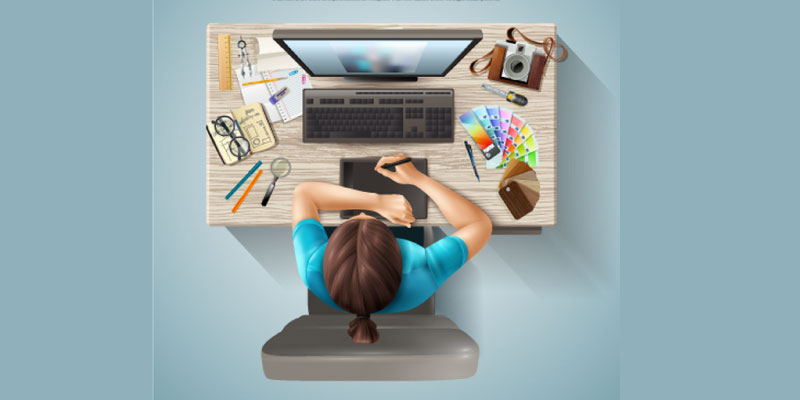 If a graphic designer needs to shift to become a visual designer, the first thing he must do is to move ahead from Adobe Photoshop and illustrator to learn more about Adobe XD and Sketch. These top-notch apps help you in guiding the user experience to be the best, using the lines & shapes of the icons. Moreover, you will be able to apply your graphic design knowledge to know where and how much white space you have to leave to make the content look presentable.
Making the designer easier as you could for the users is what a visual designer must do. This has to be the primary role of a visual designer as he looks beyond just designing logos and understands the user experience much better.
Visual Design Is Used To Make Visuals As The Marketing Tool
Gone are the days when only informative stuff used to rule the internet. Indeed, the information is crucial, but now the primary focus has shifted elsewhere. As we all know that online marketing has become a norm, it is important to understand that visuals play a crucial role. Be it construction logo designs or other visual designs; they must look catchy to grasp the customer's attention instantly.
When it is about the visuals, it does not only include pictures. Everything that is utilized to connect with the user falls under visual content. A visual designer must make certain that each element looks perfect on the screen and draws customers from this busy market.
Conclusion
Designs are so powerful that they can easily attract customers if they are creatively created. Be it an eCommerce logo or a law firm logo, the only work that will be needed from it will be that it looks catchy. Once a customer is drawn to the business's online presence with the help of a logo design, it has to be ensured that the visual designer has done his work in the best way to make the customers stay.
Also Read: A Deep Dive Into Monograms And How They Can Be Used
---