Get Upto 60% Discount
Please fill the form below & proceed
Why Does Your Company Logo Design Have To Stand Out?
November 3 , 2022 Posted by admin
Your business can not take off until you do not have a logo design to represent it. A logo design is the only thing that every business needs for its identity in the market. At the same time, it creates a separate image of a business in customers' minds. Logos are made up of pictures, images, texts, icons, and other graphic elements. Thus, it would not be incorrect to say that logo designs are a visual overview of a brand, representing its values, prospects, and goals of serving customers.
Thousands of businesses are working in the market, serving the same or different products and services. One of the biggest questions that highlight the difference is the company logo design. This is where companies differentiate from each other and make customers know who is the best one to hire or avail for its products and services. Consequently, business owners focus on the latest graphics design trends to get unique, eye-catching, and appealing logo designs.
No matter if a business is just in its starting phase or a reputable organization working for many years, a brand identity is essential for its recognition. Be it a basic wordmark or a geometrical design, the purpose is to leave a lasting impression.
Below is the list of trending logo designs, giving ideas and inspiration to businesses for displaying their values.
The Top Company Logo Design Inspirations For 2022
Whenever a business launches in the market, it has to struggle to create brand awareness and make customers. The only thing that could help a business stay established for a long time is an effective branding strategy, including everything a company needs to last a positive impression. A complete branding package includes logo design services, digital and printing materials, brand positioning, etc. Though the logo design services are the leading characters of the whole branding journey. Many entrepreneurs do not pay attention to their company logo design and face a challenging situation to make a market reputation. On the contrary, companies that keep logos as the top priority rule the business's competition for the long term.
Flexible Logo Designs
A design that personalizes relationships with customers and makes positive associations will be trending in 2022. As technology is skyrocketing and the sizes of screens are shrinking, businesses need a logo design that perfectly aligns and works well across all platforms. Whether it is a business website, mobile app, social media post, or product package, flexibility in logos is constant for all. However, the trend remained the same for years, but the change in business strategies made entrepreneurs think of innovation in logo design strategy. As a result, businesses are witnessed using logos with a bit of change for different occasions.
Responsive Logo Designs
In this digital day and age, logo designers emphasize the creation of responsive logo designs. Today, businesses rely on an online presence through websites, mobile apps, and social media platforms. It means that businesses are no longer engaged with desktop devices. Moreover, people now like to shop online and prefer searching for products and services using smartphones. In this case, a brand can not attract more customers without a responsive logo design. Various types of logo designs, including monogram, pictorial, word-mark, combination mark, etc., businesses can choose any one of them as the brand identity for conveying the brand message. But the thing is, whatever design is chosen should be responsive enough to fit all screens and retains simplicity, readability, and versatility in modern times. The trend depicts that it is unnecessary to have a trendy logo all the time. Instead, it should be a design that lasts longer.
Layered Elements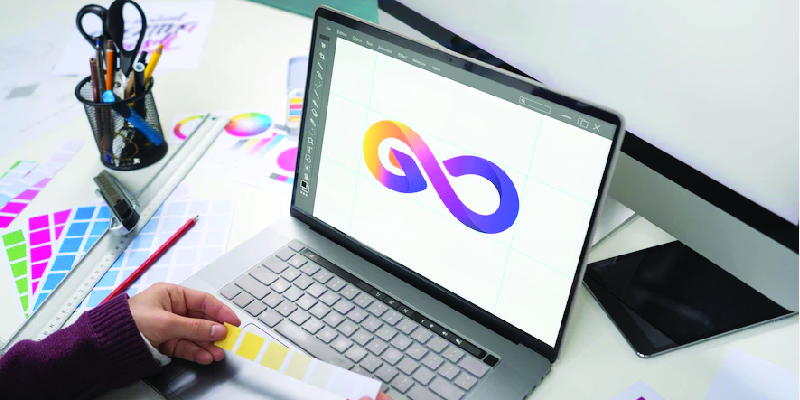 Among the various emerging graphics design trends, layered elements create a buzz in the design field. However, the trend is expected to rise its prominence in 2022, allowing logo designers to think out of the box and end up with a unique logo design idea. Adding layered elements in logo designs is setting a new norm where designers explore geometric shapes, fonts, colors, and texts to create logos with a twist.
While designing a business logo, designers have to take care of standards and follow an appropriate approach. But if one uses abrupt colors and patterns to give designs an attractive look? The idea would be a worthy investment, ensuring a unique logo design with strong visual impacts. Most importantly, the purpose of designing creative logos is to gain the audience's attention and win their interest. It would only be possible when something catchy and interrupting appeals to the viewer at first glance.
Typography Makes The Brand More Visible
In the race to get the best logo design, a business can win customers' hearts with typographical logo designs. However, typography is a traditional graphic design practice that uses letter marks, wordmarks, and styles. Like images, fonts also play a vital role in communicating brand personalities. Typography logo designs come with some imagery like emblems or just text holding a full brand name or initials. It totally depends upon what a business is all about or what fits best to represent a clear picture. One of the best ideas can be nestling typography within the imagery to give the corporate logo a unique structure and shape, providing a wow effect.
Retro Revival Is Still In Trend
Retro revival is one of the biggest logo design trends of 2022. It has been observed that people are fascinated with past decades and appreciate the old designs in this modern age to memorize culture and values. This not only memorizes childhood days but also promotes simplicity, which must be considered all time. Nostalgic designs are the most popular ones used in logo designs and ensure credibility in company logo design. While on the other hand, it gives companies a lot of reasons to invoke sentiments and emotions. Most importantly, the purpose of creating a logo is to communicate a message that pinpoints facts and customer needs. Whereas it associates all the feelings that exactly show what a brand is all about.
Blurred Style Logo Designs
Businesses with wordmarks, letter-mark, or monogram-style logos can make logo designs exciting by experimenting with blur effects. The blurred style logo trend is one of the most popular trends emerging in the market. What makes businesses emphasize these types of logo designs is the fluidity, movement, and readability. However, the trend not only focuses on the visibility of the brand name but also gives customers a new thing to experience.
Adding a blur effect in logo design brings creativity, and memorability, whereas it captivates attention done correctly. What's more, it supports animation that puts life into designs which is the thing that appeals to and convinces customers to know more about brands. There are a number of options in which a logo can be blurred, like blurring only the edges of letters while the body remains apparent. One of the best practices can be using a blurred icon along with the brand name.
Illustrated characters are one of the traditional logotypes and have been around businesses from the early 90s. What mascot logo design has to offer is the colorful, cartoonish style designs that give fun and create brand awareness at the same time. So, what else can be more exciting than this?
Logos are designed to represent a business's mission, vision, and perspectives, and mascots are ideal for achieving these goals. One of the famous examples is the Kool-Aid Man, KFC's colonel representing the world's famous fast-food restaurant. Secondly, Planter's Mr. Peanut is the unforgettable mascot. Both of these mascots are recognized by people worldwide, so having mascots in corporate logos defines the brand and gives the audience a fun time.
White Spaces In Logo Designs
White space or negative space is another trendy creative idea for business logo designs. Designing a logo does not mean stuffing designs in a single image and making it complicated. Instead, it means giving space in design and letting each design element breathe. However, this practice has been in logo designs for many years, setting the focal points and balancing the logo's composition to avoid unnecessary cluttering. Though the trend has vanished for some time as many new trends emerged, this time, it is coming back again to embrace logo designs with illusions and a little abstraction. One of the good things about whitespace logo design is logo designers can freely create whatever they want. This is the thing that brings new ideas, and lets companies enjoy a unique brand identity of great worth.
Playful Logo Designs
A notable change in business dynamics has been seen when companies quit relying on traditional and static graphics. Be it a branding video, social media post, logo design, or video animation has become an integral part of the design field.
Logo designing is a state-of-an-art that requires creativity, expertise, and profound knowledge, especially when a company aims to have designs that last for decades. This thought may confuse some business owners, assuming there would not be room for innovation, fun, and creativity. No, not at all. Instead, the graphics design field warmly welcomes innovation and emphasizes making trending yet playful designs. Playful designs include animations, color transitions, and changes in image or font styles. While on the hand, it also includes illusions, and 2D or 3D effects, giving a realistic impact. One of the best examples of playful design can be the 3D logo design, representing a company with a 360-degree angle. What can be more playful than this?
Gradients In Logos Make Companies Stand Apart
Gradients have been traditionally used for websites. Many web design companies use gradients to make websites look colorful, intuitive, and appealing. Besides websites, a significant number of logo designers are noticed using gradients in business, fashion, healthcare, beauty, etc.
Gradients are highly associated with colors, hues, and shades because colors give meaning to designs. While on the other hand, they evoke emotions, feelings, and concerns, expressing what a brand feels for its customers. In logo designs, gradients represent vivid spectral combinations and beautiful color transitions, making branding images symbols that can be memorized for the long term.
Remember that gradients in logo designs are a bit expensive but ensure logo designs that you have never seen before. So if a company has a budget to bear its complexities and expenses can use this logo design style. Furthermore, companies with a tight budget have to choose other options.
The above are some trending business logo designs that every small or large-scale enterprise should use as brand identities. Let's move towards some of the creative ideas that could help companies get logo designs that give a unique presence and ensure long-term recognition.
Mindful Tips For Creative Logo Designs
Following are some mindful tips that help businesses get creative brand identities. Let's dive into them!
A Memorable Design Lasts Longer
The best way to help companies recognize for a long time is to have a memorable logo design. The more a logo is memorable, the more it will be remembered. But the thing is how to create the one? One of the famous brands, Iron Duck, has a memorable design as brand identity. Its logo design includes the clothing line with a duck's image on the clothes hanger. This is a perfect way to represent a clothing brand with a memorable design.
Images That Evoke The Subject
Images and typefaces have specific connotations and associations that communicate a message or concept in the right tone. What makes images and typefaces work so nicely is the style and way they are drawn in. Moreover, they give logo designers ample chances to add creativity to designs. Data Berry is a famous brand identity using images that evoke the subject. The logo has a great illustration with a minimalist image evoking organic and tech-related concepts.
Create Images Within An Image
There are numerous ways to make business logos stand out. One of the best ways can be to create an image within an image but make sure the final design separates two pictures and gives a unique brand image. Shoot My Dog's logo design is a brand that uses the same design technique. Here, a person takes a photo, but the position, angle, and style make the individual look like a dog. Remember that both the images should match the subject and shows a clear picture of the brand.
Show Your Purpose
Instead of stuffing the design with unnecessary elements, icons, and complicated patterns, one should use a shorthand to define the product's purpose. The shorthands do a lot with small business branding and give a complete overview of what a brand is all about.
Movers, a real estate agency, use shorthand as a brand symbol, illustrating how they help individuals move homes. What Movers' logo design comprises is a hand picking up a house, showing moving gestures. This is how a simple yet creative logo design is attainable by doing less.
GIF Version Do More With Logos
Dynamism in company logo design is something that makes brand symbols attractive, innovative, and a design of great worth. Animations and GIF effects are more attractive in gaining viewers' attention while working well to give a positive impression at first glance. Remember that 3d animations and motion should be added so nicely that it immediately draws eyes. Rain Wine is one of the famous examples, including rain animation creating a wine bottle's image. Look how creative it is, isn't it?
Create A Series Of Animated Logos
Adding a variety of animated logo versions is one of the creative ideas that not make the logo look eye-catching but gives a fun time to its viewers. Though 3d logo design animations can be used in any context, it is something beyond creativity in logo designs. Fubiz is a news brand that delivers the latest news about pop culture, inspirations, and creativity. Its logo design perfectly represents its brand and exactly shows what it does. Fubiz's logo shows a variety of 2d animation options making its brand image a memorable, engaging, and playful design. Businesses that do not want basic logos can do more by adding a variety of animations.
Choosing Fonts With The Right Personality
Logo designs comprise images, texts, animations, colors, and beautiful patterns. We use all these design elements individually or in combination to make the final design an image that one has ever seen before. This is what the graphics design field is known for. Graphics design includes various designs like logos, images, posts, videos, infographics, and the creation of digital or print materials. The main thing the audience looks at is a design's aesthetics. The same concept is associated with business logos. The more appealing the aesthetics, the chances a brand rules the market for a long time are more. Quick Fish is a brand with a logo having a beautiful appearance. Its logo comprises a combination of image and text, making a free-flowing design.
Use Subtlety
Not everything should be straightforward and obvious, right? Being simple and to the point is a professional approach, but over-using it in graphics spoils the design's purpose. There should be something with hidden meanings or entertaining. It would be only possible when one thinks out of the box and choose an abstract logo as its brand image. EDN did it the right way. See how creatively they have designed it. At first, EDN's logo looks like just an image, but it reveals the brand name when the viewer closely looks. So one can do a lot with its brand symbol.
Using A Figure Of Speech Is Another Great Idea
Metaphors are a great way to convey brand messages quickly and easily. However, metaphors do not show exactly about a brand but associate it with something relatable, making concepts more visible. Slingshot is a brand delivering mottos more efficiently. It uses a rocket as its design element to represent services, credibility, and efficiency. It is obvious that no one will deliver goods on a rocket at the doorstep. Instead, it depicts how Slingshot takes care of its customers and gives them a good experience with its quicker and more efficient services. Thus, logo designers must consider metaphors to make logos look great.
Typography Adds Value To Logo Designs
What and how you write words highly impacts how it is viewed. It sounds something incredible, isn't it? The typeface and image matter a lot in graphics design, as they give meaning and add worth to any design. Edge Link stylizes its logo design using a simple but artistic typeface. The typeface varies with business nature and type, so one should choose the right fonts. Most importantly, the texture of fonts, like bold or thin, shows the depth of emotions. It means typography matters a lot in conveying purposes.
What Does A Creative Logo Design Offer?
Logo design is one of the core business aspects explaining a brand's vision, mission, and prospects. The most important branding element gives businesses something that makes the audience know about their brand. Be it a 3d logo design or an abstract it offers the following things:
With creative logo designs, a company does not need to say a thousand words about its products and services.
Creative logos builds brand professionalism while ensuring an established position for the long term.
A business logo with an appealing design makes business more attractive to customers.
Creativity is the key to credibility, reliability, and longevity. Logo designs placed on products boost trustworthiness.
Logo and web design company in Hawaii speaks for businesses and provides more opportunities to stand apart in the competition.
Consistency boosts brand reputation; it reaches a new height with creative logos.
Many trends come and go, but some have the potential to stay in trend for years. No matter it is a graphic design or fashion trend, people always look for the latest ones. But it does not mean the old trends remain unfollowed; they come in variations and some innovations to show something new. The above-mentioned are some emerging company logo design trends and inspirations that every start-up or experienced enterprise should practice. These logo designs include various design elements that build creativity, memorability, simplicity, timelessness, and versatility.
---