Get Upto 60% Discount
Please fill the form below & proceed
How Social Media Is Changing The Way Logos Are Made
September 26 , 2022 Posted by admin
Social media is crucial in changing the business landscape, especially regarding fashion, socializing, and digital marketing. It no doubt has brought some radical changes in our lifestyles. The boom of social media was not overnight but a gradual process that started with mobile development. Here the logos entered the game to differentiate between brands, taking a leap into the future to stand out from the crowd.
Companies started designing and redesigning their brand names to market them in real time. Social media symbols are way different from the other types of logos. Since millions of users use the mobile app daily, it becomes essential for companies to create unique brands where they do not repeat the design. However, they might be selling the same products or services. Though many of these platforms have just entered the market, they have already undergone many changes, giving rise to custom logos. Thanks to the smartphones that have helped social media sites become popular. Here people spend a lot of time on it. However, according to Global Digital Reports, there are considerable differences if we see them geographic-wise. But before we move ahead, let's understand logo designing.
What is Logo Designing?
Logos play a critical role in our lives. They have become a means of communication for companies and customers. Their main motive is to represent the brand identity in a unique way, conveying a company's message to the audience. Every brand you know today has a specific logo that makes it stand out from the crowd and is usually the symbol that helps users recognize a business. However, it becomes necessary for them to have a simple, unique, and timeless design to be embedded in the user's mind.
Though designing may seem like an easy task, it is one of the most challenging processes where designers need to align the company's goals and needs and interpret them in the form of a visual message. This message should be loud and clear. The best logo designer tries to implement new techniques like telling a brand story through its icon to make it more memorable. All these designs' brand marks have a story behind them, making them stand out from the rest. Take the example of BMW, Facebook, McDonald's, Louis Vuitton, etc. They have made a place in today's world where everyone worldwide can recognize them.
Designing logos has always been considered an art where agencies try their best to develop innovative symbols with various colors, styles, texts, and other elements. We have some great examples of social media platforms like Facebook, Instagram, Twitter, Tinder, etc., that are known from the icon they used. Twitter, for example, is represented by a bluebird which is much easier to remember. It has a clear vision. However, it went through its set of redesigning to make it easier for customers to recognize. The one you see today is the simplified version of the bird that shows three overlapping circles with the perfect geometric balance to give its wings the exact look of a mountain bird.
Social Media and Logos
Logos have evolved dramatically over the period of time. From the confusing designs where they were decorated to make a brand look more appealing to using simple icons, initials, or graphics to communicate the message, we have come a long way. Every industry you see today has its icons to represent its core values, goals, products, or services, but how well it does may vary from company to company.
Many firms hire logo design agencies or individual designers to create stunning brand marks to reach the target audience. These people have the knowledge and skills to understand the company requirements and work their way through efficiently. Besides this, new online logo design tools have made it much easier to customize their design or sketch from the start to turn their ideas into reality.
Here social media plays a vital role in changing the design patterns of these brand names. Yes, you heard that correctly! Have you ever looked at these apps? They are beautiful, simple, and outstanding in their own way. Some have chosen initials to represent their business, while others have opted for abstract work. Facebook and Instagram are two such examples that follow different approaches to market the brand, depending on the market size and human preference.
You might be amazed to know that both of them went through their own set of changes where the designers came up with futuristic ideas to market an app through a fantastic logo.
Let's look at some of the top social media sites and how the logos impacted their lives.
3 Best Logos That Changed Social Media Platforms
Facebook
A well-known social media site known as Facebook has won the hearts of millions and continues to be the most used one. It all started at Harvard University, where it was initially named 'Facemash' and later changed to 'Thefacebook.' After it was renamed 'Facebook' where Mark Zuckerberg, the founder of this social media site, hired Mike Buzzard to design a unique logo for this site.
His logo designing skills were extraordinary and depicted the modification of Klavika fonts. From taking inspiration from different places, Buzzard and Joe Kral designed the logo where they handled the graphics, typeface and modified the version into a final wordmark. The blue color was chosen with respect to Mr. Zuckerberg as he was color-blind, and he could only distinguish the blue color.
This wordmark was simple, scalable, and beautiful, making it the best for at least the next decade. However, as the site got popular, the logo became invaluable, demanding some changes or redesigning from scratch. It made some alterations in the same design, which was a supposedly major change in 2015. People couldn't easily spot the difference, meaning they were still able to associate with the symbol. The subtle yet much-needed tweaks gave it a more unique, updated, and friendly look. They changed quite a few things, like converting it to a single-deck 'a' and adding a stem on its letter 'b.'
Since people have become more tech-savvy, they use smartphones more often than computers. This significantly impacted the app icons, calling for redesign to look good on all platforms. The new design shows the square background being replaced by a circle background. Moreover, the blue color is more vibrant for its messenger icon, which can be easily downloaded on mobile phones.
Facebook has a successful journey of designing and redesigning its logo according to the changes. It is never afraid to try on new things though they are simple and subtle but are worth it. Hence, this leads to being one of the most used sites in the world with a smooth consistency.
Instagram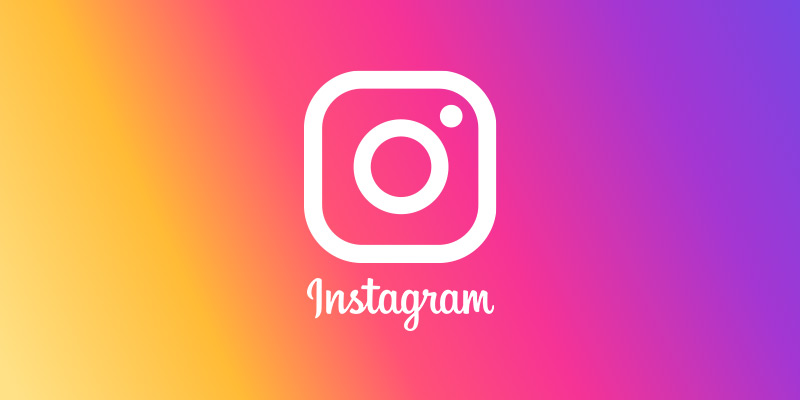 Another social media platform Instagram has become a global app that is used and loved by many. Its success story is known to all, and it continues to impact everyone's lives with its unique features, bringing entertainment to your doorstep.
This app has evolved over time with a clear mission, and its logo depicts everything. It was launched in 2010, and its first symbol was a wordmark. It received several iterations over the years. The platform was all about mobile apps, so having a stunning icon was vital to its brand identity. Moreover, the icon was designed by its CEO and co-founder, Kevin Systrom. The first one looked like an old polaroid camera which he later confessed he was offered only as a service. After this, he hired a professional designer and photographer, Cole Rise to create a new logo. The symbol went through many iterations for six straight months and finally chose Rise's camera symbol.
This icon was used until 2016. Instagram came up with a new minimalist logo within nine months. We know that social media is where people do not like dramatic changes and always prefer subtle ones as they have already been associated with the brand message. According to a survey, the users went crazy over the charges, which led the New York Times to dub the event with the title 'The Great Instagram Logo Freakout of 2016.' This looked like an essential move in the future.
Its 3D camera icon has gained immense popularity and continuously makes changes to simplify its design and convey its message. The multi-colors used in it are enough to catch the user's attention.
YouTube
Custom logos have increased in demand over the years, with companies trying to reach a greater number of people with simple yet timeless designs that convey the brand message. YouTube is another example of such a well-known brand that has evolved over the years with its simple design. Everyone nowadays knows what YouTube is, and we can't even remember when people were unaware of it.
It was created by PayPal employees who launched the app on Valentine's Day back in 2005. Its old logo is well-recognized by its word 'Tube,' placed inside a red rectangle showing a television. The same design was used till 2011, after which they opted for a flatter rectangle with a much darker red shade to represent the brand. They removed the 3D gradient on time according to the game's trends, making it look modern and fresh without major changes.
Moving on to 2013 and 2015, the app went through some minor changes to enhance its overall look. Finally, in 2017 the brand got its major redesigning. This icon removed the TV shape around the 'Tube' and moved it to one side. It gave it a cleaner look where the users could easily understand its message from afar. YouTube's design was created for greater flexibility showing it can work better on various devices. They had the best logo designer who invested his time to feature an innovative bespoke typeface with a new rectangle with a purely red color that instantly caught the user's attention.
If you ask us about the best social media logos that opted for a thought-through evolution over the years, we will choose YouTube. Its icons give a clear idea about it. Moreover, It is one of those apps where none of its updates led to online gnashing or wailing.
Conclusion
Logo designing has become a part of our changing world, where companies try to place their brands on the top list to attract more customers and increase their ROI. However, this isn't an easy task, primarily when we associate it with social media, where marketing plays a critical part in a firm's success. We have seen a lot of big media sites that are loved b people and used on a daily basis. This has been possible with the help of mobile phone usage, where they search, shop, and enjoy on a digital platform. Since everything was being marketed online, it was time that social media sites gained popularity. They leveraged users and businesses with shopping, researching, chatting, working, gaming, and other entertainment. Facebook, Twitter, Pinterest, Medium, Snapchat, etc., are a few of the examples that are known to people globally, attracting more users. So if you have a social media site, think less and hire the best branding company to brand your products and services.
---