Get Upto 60% Discount
Please fill the form below & proceed
Built Custom Photography Logo For Your Studio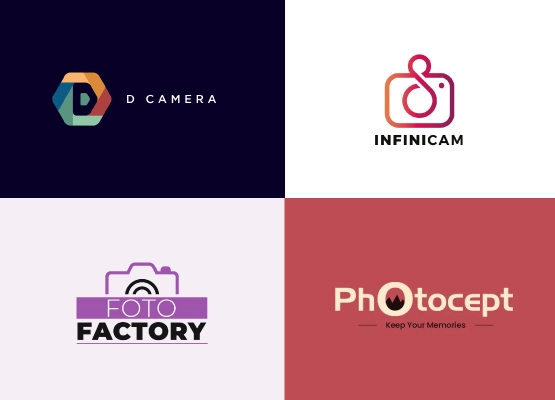 Photographers are gifted with the ability to freeze crucial moments in time. A photography studio logo is comparable in reflecting the photographer's sense of style when capturing the view. So, it's time to make a splash now that you've introduced or are operating your photography business. With a classic and graceful to bold and modern photography logo design from logo Magicians, you can reach out to your clientele worldwide.
Whether you're a scenery enthusiast, wedding photographer, or portrait artist, we have the in-depth know-how to design a distinct and creative photography logo in alignment with your vision. During our photography business logo design procedure, we'll work closely with you to integrate your preferred color palette, typography, and any specific elements in a logo design. These can artistically represent your photography style. And we'll put your ideas and preferences front and center in each draft. You can get inspiration and explore our photography logo design ideas as well.
Let us be your partner in making the perfect photo studio logo that hauls up your brand and helps you stand out in the visual storytelling world. Contact our custom photography logo agency today to capture the essence of your photography firm in a single, memorable logo.
Professional Logo Designs by Type
Browse The Collection Of Our Photography Business Logo Design And Select The Best One
Please go through the creative photography company logos below and pick ideas from them. We will contact you within 24 hours if you send us an email.
Photo Studio Logo Design FAQs
A captivating photography logo design should reflect creativity, style, and the essence of your photography business. We specialize in crafting unique and modern photography logos that enhance your brand's image.
Absolutely! Our team provides a variety of creative photography logo design ideas to choose from. We understand the importance of a standout logo that represents your photography studio's identity.
A well-designed photo studio logo is essential because it's the visual identity of your photography business. It conveys your professionalism and style, making your brand memorable.
Yes, we specialize in creating custom photography company logos that are unique to each photography business. Our designs capture the essence of your brand.
A modern photography logo sets your business apart and conveys that you are up-to-date with current trends. It's an essential part of your branding that can make a lasting impression.
A pictorial logo design uses visuals to represent your brand, making it a powerful choice for photography businesses. It can capture the essence of photography through imagery.
Our photography logos stand out with a perfect blend of creativity. We prioritize individuality and the smooth integration of artistic elements and personalized design sets our logos better than other in the photography branding.